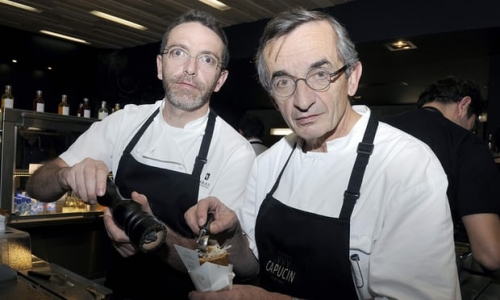 Sébastien Bras, left, and his father Michel at Le Capucin, the pair's restaurant in Toulouse, in 2014. Sébastien now runs the acclaimed restaurant Le Suquet, in Laguiole. Photograph: Pascal Pavani/AFP/Getty Images
High pressure of three star rating in the gastronomical bible leads some chefs to either close their business entirely or request to drop off the list according to a timely article in The Guardian.
One of France's most celebrated chefs, whose restaurant has been honoured with three stars in the Michelin guide for almost 20 years, has pleaded to be stripped of the prestigious ranking because of the huge pressure of being judged on every dish he serves.

Bras said that like all chefs he sometimes found himself thinking of Bernard Loiseau, the acclaimed French chef who killed himself in 2003, an act widely seen as linked to rumours that he would lose his third Michelin star. "I'm not in the frame of mind," Bras said.